There will always be a certain allure to pre-CBS Fenders, but post-CBS models have their own cachet, as well. When Fender employees took over the company in late 1984, they started working on a new series of guitars. Released in 1986, these "American Standards" became an instant success. Every few years the series has seen changes and updates keeping them relevant for current players. Now, Fender has done it again and expanded the series with two upgraded Teles.
The American Standard Telecaster has a new body contour made for comfort. The neck gets a Custom Shop Twisted Tele pickup; a Broadcaster pickup is in the bridge. It's also available in two new colors – Bordeaux Metallic:
and Ocean Blue Metallic:
The American Standard Telecaster HH boasts two Twin Head Vintage humbucking pickups with three-way switching. The neck has a modern "C" profile, 9.5" fingerboard radius and 22 medium jumbo fret. The string-through-body bridge has a stamped brass plate.
Available in 3-Color Sunburst with a rosewood fingerboard:
Black with a rosewood fingerboard:
Olympic White with a maple fingerboard:
Ocean Blue Metallic with a maple fingerboard:
MSRP for these Teles: $1299
Check them out at Fender.
Tom Petty's career is going on 40-years strong, and over that time, he's written many classic songs. He's also played many classic guitars. In the '90s, Rickenbacker honored Tom with a signature 12-string. Currently, you can buy a Tom Petty signature Gibson Dove. Now, Fender has entered the fray with the  Acoustic Custom Shop Tom Petty Kingman dreadnaught.
The forward X-braced acoustic has an AA Sitka spruce top with mahogany back and sides. The maple neck has a modern "C" profile with topped with a '62-style Strat headstock.
Other details:
Nitro gloss black
20 fret rosewood fingerboard, 10″ radius
Clay dot position inlays
Bone saddle, bone pins
Fishman V2-pickup/preamp system
Tom's autograph in the soundhole with handwritten serial number.
This sucker also comes with some serious case candy: a signed certificate of authenticity, an Acoustic Custom shop tool kit, and an autographed copy of Tom's latest album, Hypnotic Eye. Making it even cooler: Tom is donating all of his proceeds to charity.
MSRP: $5500
Currently, Tom's Kingman is only available through Fuller's Guitars in Houston, Texas, Tundra Music in Ontario, Canada, and this guy on Reverb.com who wants $12,500 for his.
Waylon Jennings has been gone for 12 years, but his presence is still felt today, and not just in the world of country music. Waylon fought for the right to record his songs his way. That's what every artist wants, no matter the genre.
He hated the term "outlaw," even though it fit. After all, this was a guy who stormed out of the "We Are the World" sessions because he didn't want to sing in Swahili; who skipped his own induction to the Country Music Hall of Fame, who titled an album "Lonesome, On'ry and Mean."
Still, to think of Waylon as just an outlaw ignores the full breadth of his career, which took him from rockabilly sidekick to session musician, from solo star to TV star, to all points in between. Now, fans have a chance of own something from the man himself.
On October 4th, Guernsey's auction house will be auctioning off the Waylon Jennings estate. The centerpiece is a 1958 Ariel Cyclone motorcycle originally owned by Buddy Holly.
But for guitar fans, there are also many six strings of interest.
Also up for grabs—plenty of amplifiers: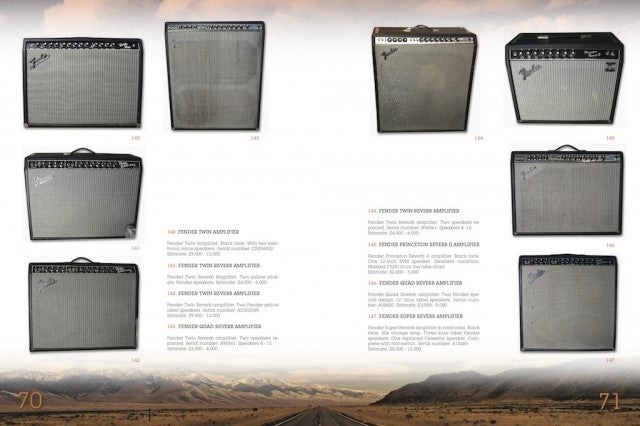 Guernsey's founder Arlan Ettinger says his favorite items are song lyrics penned by Waylon on the road. "These represent the innermost thoughts of a man. I don't know if you can get much closer to a person than that."
One of the more interesting lots is this "keepsake" that Waylon won from Willie Nelson in a bet.
The auction catalog is incredibly comprehensive, full of pictures and stories. These are limited to a print run of 2,500, and at $50, are much cheaper than the motorcycle.
For more information, head to Guernsey's:
You can never say Fender just rests on their laurels. They're always coming out with new models. And Fall 2014 is no exception. But the question is… will their new creations be well received or not. Only time will tell. So, here are a couple new takes on the Tele theme for you to check out:
The Limited Edition American Standard Tele. This Telecaster features Fender's channel-bound compound-radius fingerboard. If you are not familiar with this type of fingerboard it was first seen on the Select Series guitars a few years back. They route out the fingerboard area if a solid pine neck and glue the rosewood fingerboard INTO the channel – hence the name. This creates a pseudo-binding on the neck. And it does away with the skunk stripe. This new LTD AM STD is available in either Sonic Blue gloss finish:
Or in the ever popular Dakota Red:
MSRP List: $1499 (approx $1,049 Street Price).
Next up: a couple of Master Builder-designed but factory-made Teles.
Custom Shop Master Builder Chris Flemming has upgraded his Classic Player Baja Telecaster with a full-on '60s vibe, including a rosewood fingerboard, and a C-shaped neck. Pickups: Single coil American Vintage '52 Tele in the neck, and a a '58 Tele in the bridge. Other touches: brass barrel saddles, Custom Shop neck plate engraving, four way S-1 switching. (Read about S-1 here: )
MSRP List price: $799 (approx $559 Street Price).
Custom Shop Master Builder Todd Krause has cooked up the Classic Player Triple Tele, outfitted with three slanted Nocaster single-coil bridge pickups, black finish and pickguard paired with a one-piece maple neck/fingerboard. Other features include a C-shaped neck, five-way Strat-style switching, three brass saddles, and Custom Shop neck plate engraving.
MSRP List price: $799 (approx $559 Street Price).
If you pick up one, give us your review.
For more info, head to Fender.