Andrew Bingham has a thing for plastic—postwar plastic, when bakelite, celluloid and acrylic was used to make phones, radios, jewelry and yes, guitars. Last year he launched Decoboom, a pickguard design and manufacturing studio based in Bakersfield, California. Bingham works exclusively with plastic, saying "It is without question the greatest material for guitar pickguards—for sonic, aesthetic, and practical reasons." We sat down with him to learn more about his company and design philosophy.
What lead you to start Decoboom?
I was mostly inspired by vintage guitars, amplifiers, and other consumer products of the '40s and '50s—back when plastic was just so freaking cool. You had all these products with clear acrylic that were cast or engraved with amazing designs and hand-painted from the back, like the awesome Kay Kelvinator headstocks and lots of lap steel fingerboards. The best example of this is the original Gretsch pickguards from the '50s—those big, thick, acrylic pickguards with "Gretsch" popping out from behind. It was a lost art form, and it was such an important part of design history that I had to bring it back and reinvent it for our time.
How do you describe your style?
Mid-century design is probably the area where I will always come back to, because I love it and because most of the guitar designs that have endured came out of that same design school. But inspiration can come from all sorts of places. Once I start into an area of design, I usually get obsessed with it and really research and plan. Lately I've been really into Navajo rugs, Aloha patterns, and vintage sci-fi.
What happens once you're set on the design?
I have convert all my artwork into vector format so the machine can cut exactly where I tell it to. Some patterns take me days and even weeks to complete, because there are thousands and thousands of little elements that have to be placed by hand, one by one, on the computer, in order for the CNC rotary engraver to do the work it needs to do. For intricate designs, the engraving itself can take several hours.
How do you paint the pickguards?
With an airbrush or a paintbrush, with multiple coats of paint. It can take additional hours of work, and for designs with multiple colors, it is a very laborious process.
Plastic is often associated with cheapness and poor quality. How do you overcome that?
There is an old Andy Warhol quote, where he was talking about the perception of Hollywood being fake and plastic, and his response was just amazing. He simply said, "I love plastic. I want to be plastic." I always refer back to that as a sort of ethos for my artistic work now: If you want authenticity, then find it in pouring yourself into your artwork, regardless of the material, and regardless of the method. If all you've got is three chords to write a hit song, then make 'em count. If all we've got for pickguards is plastic, then let's make the greatest piece of plastic known to man. Just don't freaking pose at what you're doing. Do it for real. How's that for some cheap plastic philosophy?
Decoboom pickguards are priced from $45 and up. To order, or see more designs, go to the website.
Also check out this video:
Austinites can breath a sigh of relief—SXSW 2015 has come to a close. Some 2,000 artists and bands played the festival, but it's worth noting that even after they've gone, local performers still make Austin the "Live Music Capital of the World." For decades, professional photographer Matthew Sturtevant has called Austin home; during that time he's soaked up the scene like a sponge. Recently, he turned his lens on these musicians for a book called "The Sound of Austin: Portraits by Matthew Sturtevant."

How did you come up with the concept?
I was meditating one day after four months of daily meditation, and the idea just occurred to me. I immediately went to the bookstore; sure enough—there was nothing like it. There were a few poorly done books with concert shots, but nothing with actual portraits of Austin's musicians.
Rick Broussard from Two Hoots and a Holler
How did you decide who to include?
From about 1990 till 2010 Austin was blessed with a radio station that—for once— assumed the audience had a brain. They played everything from Hank Williams to Marley, but more importantly, they focused on the local scene. What Nirvana did for rock and roll, I felt Lyle Lovett, Robert Earl Keen and Lucinda Williams were doing for folk. There was world-class music being made all around us, and you'd see these people while you were at the grocery store: James McMurtry, Shawn Colvin, Alejandro Escovedo, and on and on. These people created music that became the soundtrack of my life. I couldn't have been prouder of them and wanted to tell the world about them.
Redd Volkeart
How difficult was it to get musicians to sign on?
I would compare it to political campaigning. I did have to win over many of the bigger names. Lyle Lovett's management turned us down five times until we got Guy Clark, then they got on board. With Jimmie Vaughan, I already had Billy Gibbons, Gary Clark, Jr., Eric Johnson, David Grissom, Junior Brown, and Redd Volkaert. After all those guitar slingers, they kinda want to be included. Willie Nelson was impossible to schedule. We wrote hundreds of emails and made countless phone calls, but ultimately Dan Rather—who is from Texas—helped get Willie. No hard feelings about Willie, he's a superstar. If he said yes to every request, he'd never have time to eat or sleep.
Dale Watson
Rosie Flores
How long did the project take from first photo to last?
Nine months of 14 hour days, and it was worth every minute.
"The Sound of Austin: Portraits by Matthew Sturtevant" includes portraits of Billy Joe Shaver, Chris Layton, Roky Erickson, Ray Benson, Doyle Bramall II, Joe Ely and many, many others.
To purchase a signed copy, head to Matthew's website:
A portion of the proceeds benefit the Health Alliance for Austin Musicians, which provides access to affordable health care of Austin's low income, uninsured, working musicians with a focus on prevention and wellness.
For behind-the-scenes footage and more portraits, check out this video:
The Telecaster is a versatile enough instrument that you can make it out of a variety of woods and it's still a Telecaster. James Trussart makes his with steel, Fender has used aluminum; some TDPRI'ers have even tried carbon fiber and another used Popsicle sticks(!). One material you don't see very often (or at all) is glass. Building a glass guitar seem impossible, or at best, impractical, but that hasn't stopped North Carolina builder Nick Eggert from making "glassical creations" like this: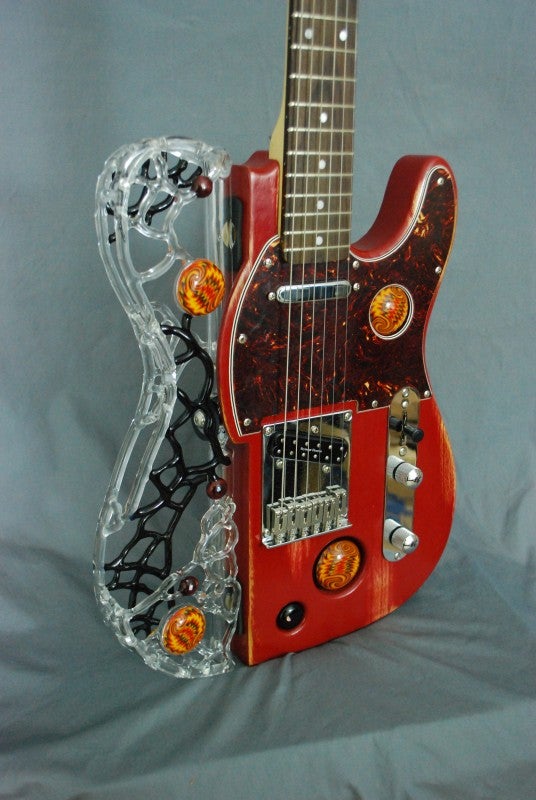 A glassblower for years, Nick had a lightbulb moment one day when he realized he could combine all of his favorite arts—music, glass, and guitars—and make one object. "Now," Nick says, " I can't get them out of my head."
It goes without saying that these builds aren't exactly standard. Making one is a "great big puzzle without any directions," Nick says. He generally begins with woodwork before blowing the borosilicate glass—also known as pyrex. To connect the two materials, two large diameter solid glass posts slide into the wood; one bolt with a series of rubber washers keeps them from sliding out.
Now, the big question: are these guitars art pieces, or something more? Nick has a definitive answer: "I made them to be played." He adds that when the glass is "annealed" properly (cooled slowly), it can be very strong. "They are not as fragile as most people think," Nick says. "These guitars have been traveling around the country from show-to-show for a few years now, and I haven't had any problems with any of them." All told, he's built two dozen; Joe Walsh even has one in his collection.
As with any handmade instrument, the price depends on the complexity of the build. Nick's start at $5,000 and have gone up to $20,000.
If you see a glass guitar in your future, head to Glassical Creations:
Here's a demo:
When Leo Fender released first released the Telecaster to the world (via the Broadcaster and Esquire), his earliest customers were country and western musicians. Some, like Jimmy Wyble and Jimmy Bryant, came to C&W via the jazz world, where the archtop guitar ruled the roost. Or course, Leo's solid body design took off, but what if he had taken the Telecaster shape and built it up like an old-school archtop?  If you've ever dreamed of such an instrument, then check out this guitar made by Maryland luthier Tim Bram:
Tim got his start in solid bodies, making his first as a teen in 1976. For the next three decades, he worked a cabinet and furniture maker. Though he wasn't primarily a luthier during that time, Bram continued to hone his craft. His love of the Telecaster began when a friend dropped off a repair job. "It was '50s tele that was so beaten up that it was considered by many to be worthless," Bram says. "I took my time and fixed it, but still left the patina only a guitar that old should have. Once it was playable again I couldn't believe how incredible it sounded. It was hard to return it to the owner!"
After discovering Robert Benedetto's book Making an Archtop Guitar, a fire was lit.  "I loved the art, skill and challenge of a hand-carved archtop, but didn't want to do the same traditional one that most archtops are modeled after. The Tele theme came to my mind again. This approach wasn't done as a novelty, but more to create a guitar that can be played as an acoustic or an electric that was smaller than traditional archtops, and then of course as a tribute to the great '50s Telecaster that I had to return."
Bram builds his archtops the traditional way: the sides are heat bent and clamped into a mold. The top and back are contoured with a fish tail gouge, then radius-planed and scraped to achieve a shape that "looks good, feels good and most importantly, sounds good."
The tops are made from Sitka spruce sourced from Alaska; sides come from special woods he has stored away over the years. "I am always looking for special pieces that others may overlook when I am at a supplier or lumber yard," Bram says. He finishes each instrument with a nitrocellulose lacquer, and allows it to cure for at least 10 days before buffing and polishing.
"Because I make each guitar by hand, the options can be great," Bram says. "Tone woods all have different tonal qualities, but if a customer wants something out of the ordinary, I am willing to try something new." When it comes to hardware and electronics, the sky's the limit.
The prices for the "Tribute Archtop" range from $4000.00 to $5000.00. "I enjoy discussing the options with the customer and establishing a price," Bram says. "Custom instruments are very personal and all planning should be treated that way."
If you think you have a Tim Bram archtop in your future, contact him by phone at 410-360-5179, or email tbneowood@aol.com.
Find out more about his guitars here:
Check out this video of Tim Lerch playing a Tim Bram: