If you play an electric solid body guitar today, you're tipping your hat to Paul Bigsby, whether you know it or not. In 1948, Bigsby built what many believe to be the first modern solid body— a single pickup beauty for Merle Travis. After that, the orders started coming in: good for a businessman, but bad for a businessman who wanted to make everything himself, including pickups. As a result, a real Bigsby guitar is few and far between. Plus, forget about affordability—in 2012, one sold for $266,500!
Until recently, those in-the-know could cop the sound without breaking the bank by purchasing a vintage Magnatone guitar. Bigbsy was hired in 1956 to design several guitars for the Inglewood, California company.  No one really knows how involved he was in the process, but some Magnatone models featured pickups that sound "virtually identical" to Bigsby's own, according to guitarist and Bigsby owner Deke Dickerson. Since Bigby's name wasn't physically attached to the guitar, a Magnatone used to be yours for a song. The word is out now, though, and that song will set you back $5000-$9000.
If that's too rich for your blood, then you need to meet John Munnerlyn.
Munnerlyn is a graphic designer who created skateboard artwork for years. He's also a huge rockabilly nut, having played in many rockabilly bands in the 1980s in California.
That's how he met Ashley Kingman, guitarist for Big Sandy and his Fly Rite Boys. Kingman's go-to guitar was a Magnatone Mark V:
But after 15 years of constant use, Kigman's Magnatone was falling apart. So Munnerlyn stepped in and offered to build him a new one. Once the body and neck were done, Munnerlyn had to deal with the pickups.
"I first made a set of prototype pickups. I was sort of guessing how they were made," Munnerlyn recalls. 'We were really nervous about taking Ashley's pickups apart, because he couldn't get a replacement anywhere, and he was relying on that guitar for his tone." However, Kingman wasn't satisfied with the prototypes, which led them both to a point of no return: "We've realized we had to open his originals to find out how they were made."
Inside was nothing like what he was expecting. But Munnerlyn was able to tap that mojo, and is now selling his own version, called the Magna-Sonic.
Like the originals, the Magna-Sonics are low output, which mean you'll have to turn your amp up. "Lower output pickups are great because you don't lose your dynamics and sensitivitly," says Munnerlyn. To build them, he had to make covers, pickup mounting rings, source the screws for pole pieces, custom order magnets, round over the tops of the pole pieces, and get them nickel plated. "There is a lot of work involved," he said.
As for the sound? "Compared to other Bigsby-type pickups I've heard, these pickups want to rock a little more. They're really good for rockabilly and blues–and of course Travis picking. They have a percussive attack that thickens up the sound a little bit. They're not super thin sounding like some single coils. The back pickup is a little more like a P90." He believes they are perfectly suited for a Tele. The back pickup is a little more like a P90." He believes they are perfectly suited for a Tele:
Munnerlyn makes them to order. A single is $275. A pair is $500.
Check out how they sound here:
For more, check out: http://www.johnmunnerlyn.com
Christmas is too far away to be talking about stocking stuffers, but if you're trying to get a jump on things, these new micro-sized pedals from Fender might be the ticket. In fact, why wait for Christmas? Buy one for that special someone (you) right now. First on the list is the Micro ABY: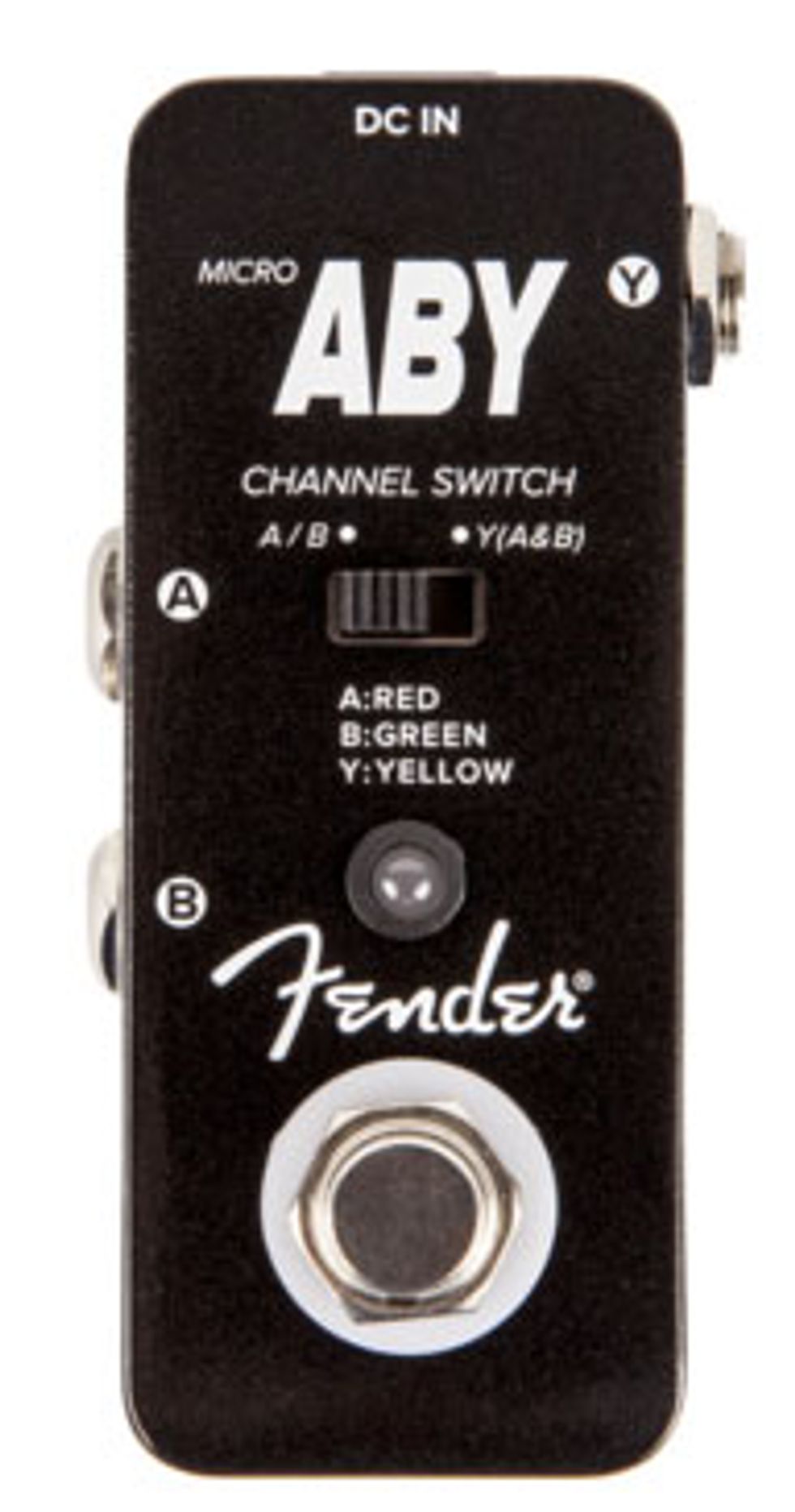 This little black box will let you switch between amplifiers or combine two signals.  It has three mono 1/4″ jacks, and true hardwire bypass wiring.  It works with no power, but if you want to see the LED indicators, you'll have to power it up with an AC Adapter (not included.)
MSRP: $79.99.  Street: $64.99.
Next up is the Micro Compressor: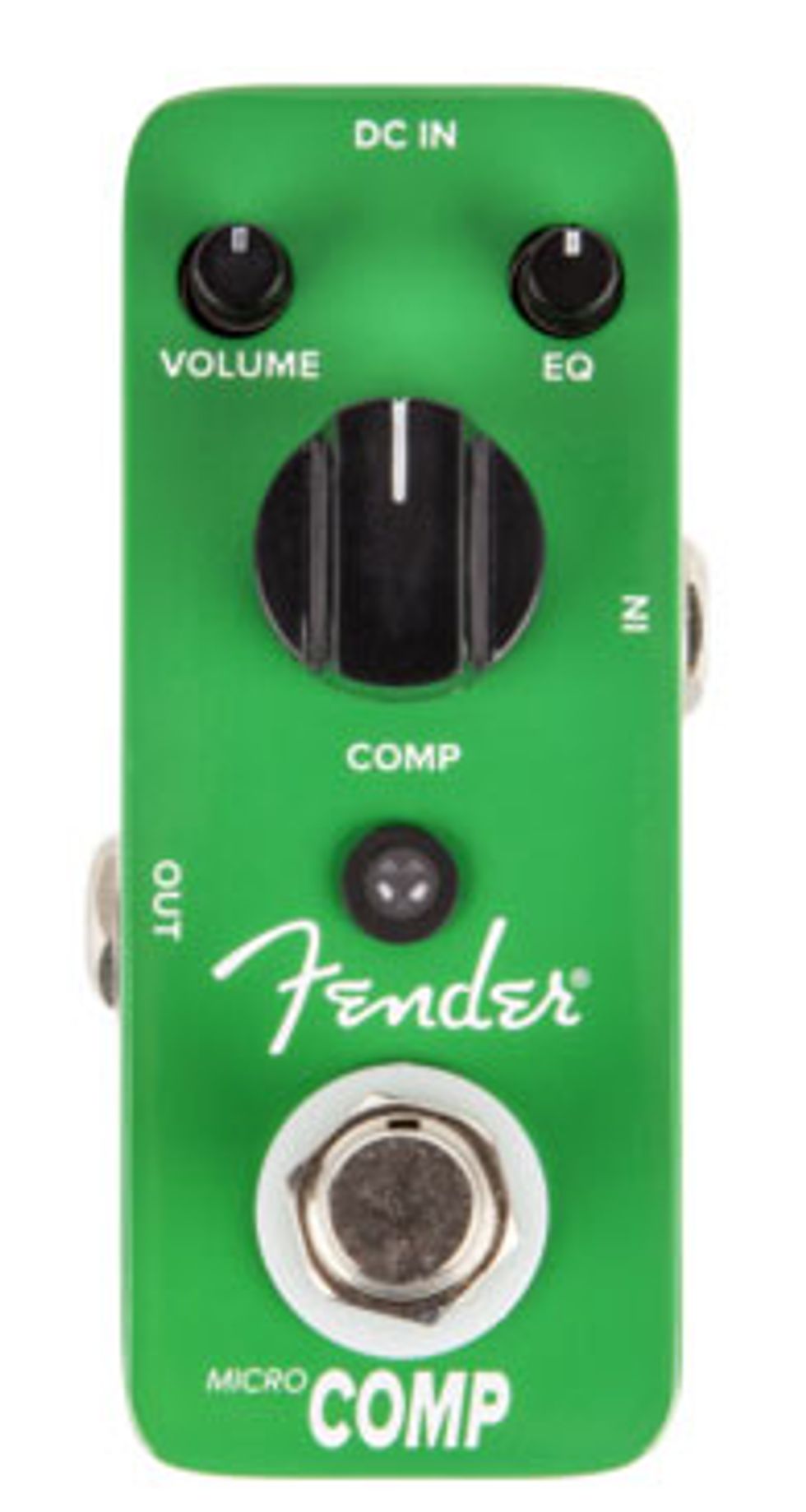 The Micro Compressor evens out highs while keeping your signature tone "consistent and complex." The pedal reduces brightness in peak frequencies and attenuates high-volume attack, giving players smooth, even tone across all notes, increased sustain and enhanced midrange. True hardwire bypass.
Power Requirements: AC adapter 9V DC center negative (not included).
MSRP: $99.99. Street: $79.99
Also in black is the Micro DI: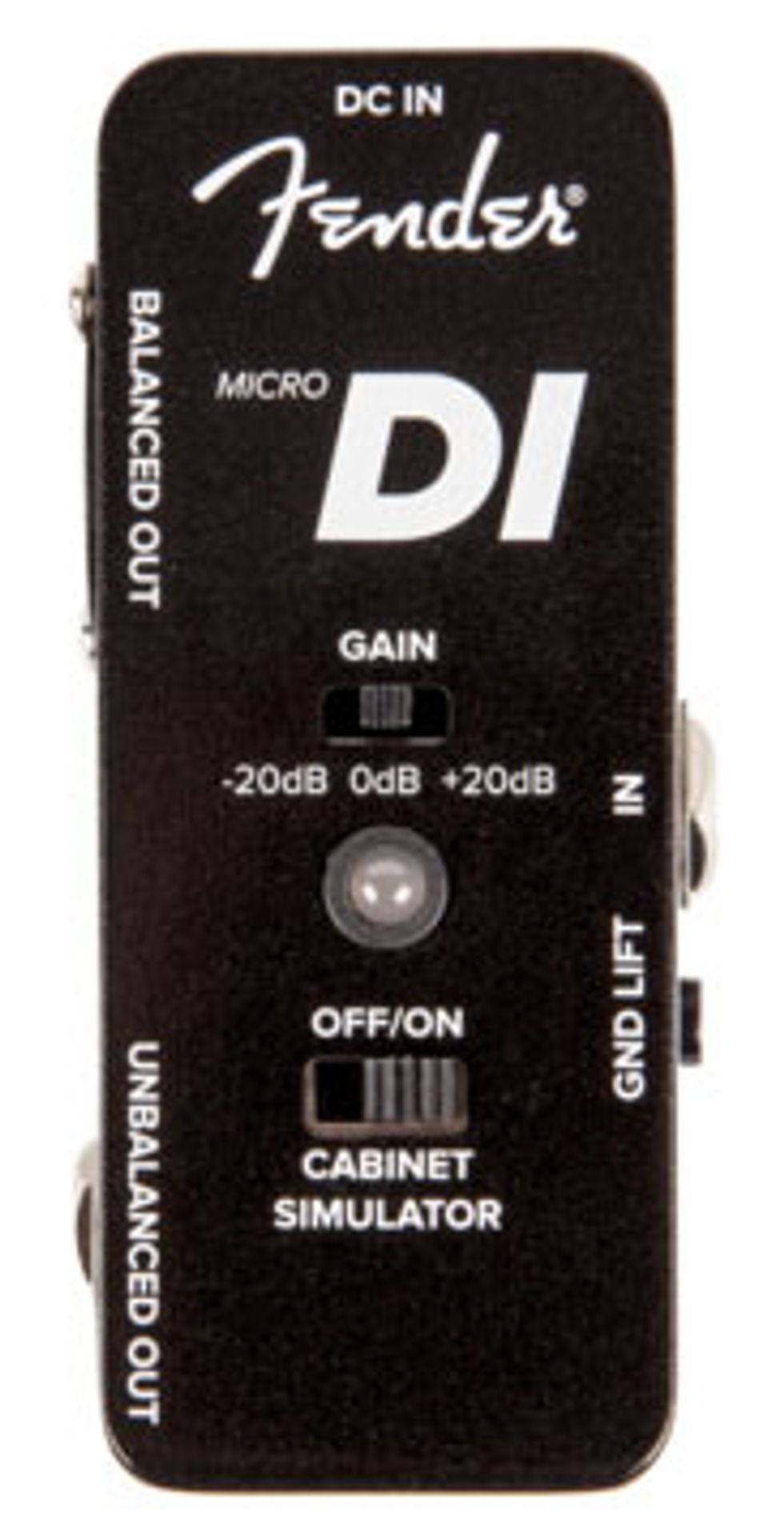 The Micro DI will allow you to convert your unbalanced instrument signal to a balanced P.A.-ready signal while minimizing distortion and ground-level noise.  Features gain switch to boost low-level signals, a cabinet simulator for replicating onstage speaker setups, and true hardwire bypass.
Power Requirements: AC adapter 9V DC center negative (not included).
MSRP: $99.99. Street: $79.99
The last of these tiny wonders is the Micro EQ: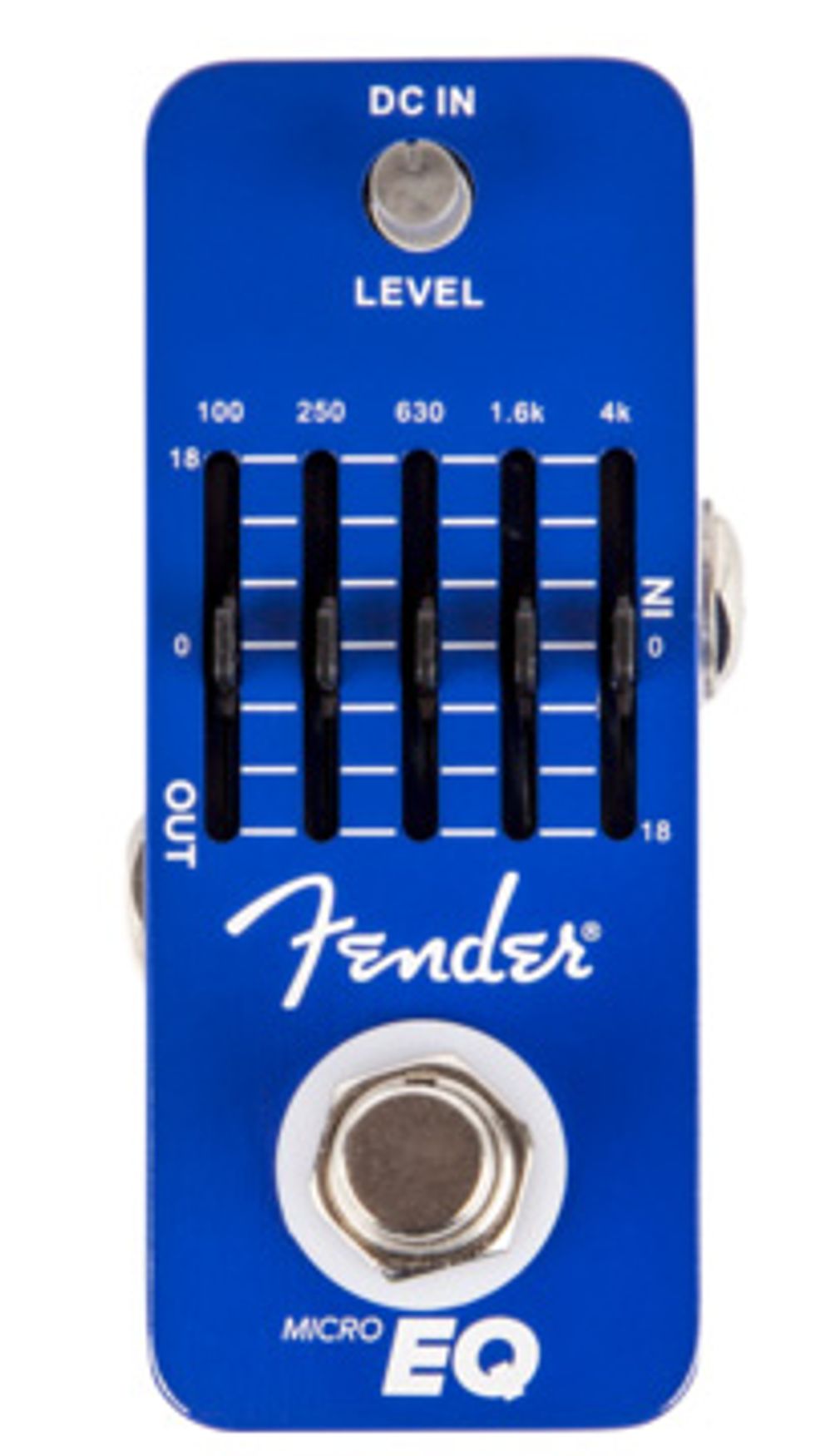 The Fender Micro EQ pedal offers master level control of individual frequencies with complete precision. Designed specifically for guitar players, this five-band graphic EQ features an ±18 dB adjustable gain range per band, letting players shape their sound over five specific frequencies while preventing feedback caused by additional distortion effects. True bypass.
Power Requirements: AC adapter 9V DC center negative (not included).
MSRP: $99.99. Street: $79.99
For more information, head to Fender:
Ever wanted your guitar to sound like an organ? Danny Gatton did—all he needed was an amp with vibrato, a pick and his fingers.  It's just that simple. (Providing you have monster technique.) Now, there's an easier solution in the form of a pedal: the Electro-Harmonix B9 Organ Machine.
The Organ Machine has nine different presets to select among different popular organ types.  You can make your guitar sound like Jimmy Smith's B-3, Matthew Fisher's M-102 from "Whiter Shade of Pale," plus settings for Gospel, Cathedral, Bell Organ and others.
A mod control adjusts the modulation speed.  A click control simulates the harmonic percussion effect that is a sonic signature of many classic organs. You can mix in the sound of your guitar, or mute it completely.
The new B9 Organ Machine comes with an AC adapter. It doesn't run on batteries. List price : $293.73. Street price: $220.
For more info, go here: http://www.ehx.com/b9
Check it out in action:
And whatever, you do, please learn The Cat: 
Bill Harden has a great background for a professional guitar builder. He worked in a machine shop. He worked in a cabinetry shop. He worked as a professional musician. Through it all, Harden was always a Tele man. But he was always "slightly dissatisfied" with the Tele's tone—Bill found it shrill. "A Telecaster through a Twin Reverb can be a little rough for people in the front row," says the Chicago-based Harden. Soon after opening a small guitar store, he began building guitars that matched the sound in his head, with the looks of something familiar, yet original. He wondered, "What if there was a 1950s guitar company that nobody knew about—what would it be like?" That company is Harden Engineering.
Harden's Bronco Buster is the most Tele-like of all his models, but it's a lot different from some off-the-shelf number from Fender. For starters, the headstock is tilted back like a Gibson, with no string trees. This allows for a "much better ring," according to Harden.
The body is chambered, but not like you might expect: "I build my guitars in layers," he says. "The middle layer on the inside looks like a honeycomb. I'm really in to the resonance of the guitar."  As for wood, he uses mahogany sandwiched between two pieces of aspen, which is in the pine family. You'll also notice lots of metal, or as Harden calls it, "My 50s style kookiness." He does all of the metal work by himself. In fact, the entire guitar is 100% handmade— even the pickups.
"That took a long time of experimentation," says Harden. "The pickups aren't just Gibson-style humbuckers that I just slapped in there. I make the bobbins. It distorts a lot like a P90. If you kick it up to ten it will really distort well. If you back it off it will really clean up nicely." Harden adds that it's "not complete Telecaster territory, but they're not as dark as a Gibson. There's a lot of magnetism happening in there."
Harden says he's "definitely not a billionaire from making guitars"—he only builds twenty to thirty a year.  "It's a lot of labor, and it's all done because I love guitar playing. I want the guitar player to have a really nice experience playing my guitar," Harden says. "When I get their feedback that they love the guitar, that makes it all worthwhile.
Broncobusters start at $3200. Turnaround time is three months.
For more, go to  http://www.hardenengineering.com
Check out the Bronco Buster here: