August 18, 1969. Jimi Hendrix wakes up a sleepy crowd at Woodstock, playing an unforgettable rendition of the Star Spangled Banner. The phrasing was all his, but the phasing came from an Uni-Vibe vibrato/chorus pedal. Invented that same year by Japanese engineer Fumio Mieda, the Uni-Vibe was designed to emulate a Leslie rotating speaker and amplifier, but without the weight— the Leslie topped the scaled at 140 pounds. It was developed for organists, but Hendrix showed the world that the Uni-Vibe worked just as well for guitars, too.
According to Mitch Gallagher, author of Guitar Tone: Pursuing the Ultimate Guitar Sound, a Uni-Vibe is "essentially a four stage phase shifter" which uses a pulsating light and four photo resistors to trigger each filter. Since the filters are staggered "semi-randomly," the resulting sound is "wobbly."
Unfortunately, Uni-Vibes were only manufactured for a few years. Today a vintage model can command as much as $2000, and good luck if it continues to work—there are 19 capacitors inside don't age well. Fortunately, Korg as come up with a solution with the Nuvibe Vibrato Chorus Effector.
According to Korg, the Nuvibe uses "original circuits that simulate hard-to-obtain parts" of the Uni-Vibe. In lieu of photo resistors (which used a component that is now hazardous), the Nuvibe creates its mojo with 79 transistors, a design that was supervised by Fumio Mieda.
Unlike the original, Korg's Nuvibe features a true bypass, along with sliders to create new waveforms. You'll get four hours of battery life from 6 AAs; or power it up with an optional AC adapter.
List price is $640. Street price: $499
Check out the Nuvibe here:  http://www.youtube.com/watch?v=9KqQxxKP1qg
After three plus years as CEO, Larry Thomas has announced his retirement from Fender effective May 31st, 2014. Interim COO Scott Gilbertson will assume the role of interim CEO while the company finds a successor.
During his tenure, Thomas managed projects like the Fender Select series, the Fender American Vintage series and the American Design Experience. He also presided over the opening of Fender's 8,400 square foot visiting center in Corona, California.
"I am extremely proud of the success we have achieved in my time at Fender," said Thomas. "We did a lot in just a few years and I leave feeling like our table is set for the company's future direction. This has truly been a wonderful life-experience. FMIC is a wonderful company and Fender is a great brand, and I am very thankful to have played a part in the company's history."
Thomas began his career in 1971, working with instrument wholesaler/importer Buegeleisen and Jacobson. He joined Guitar Center in 1977 as a salesperson, then rose to store manager, regional manager, general manager, president and ultimately chairman and CEO.
A guitarist himself, Larry Thomas felt like a "kid in a candy store" at Fender: "Seeing beautiful guitars being made and seeing the pride on the factory floor gave me goose bumps. It was the source of the Fender magic."
Aha moments can strike anytime. Kevin Tully's moment came when a friend brought over a new bicycle. "It had crazy colors, Tully says. "It was her in bike form." The bike was made by Republic, which offers affordable bicycles that are customizable via its website. His friend was "thrilled" with the bicycle. Then Tully thought, why not offer the same experience with guitars?
He got on the phone with Dave Berry, a high school friend who also grew up in Massachusetts. Berry was a guitar builder, but his day job was doing quality control for Lenscrafters, another "customization" model. Before asking Berry to join forces, Tully had one caveat: "I said I'm sick of the cold. I want to go to Austin."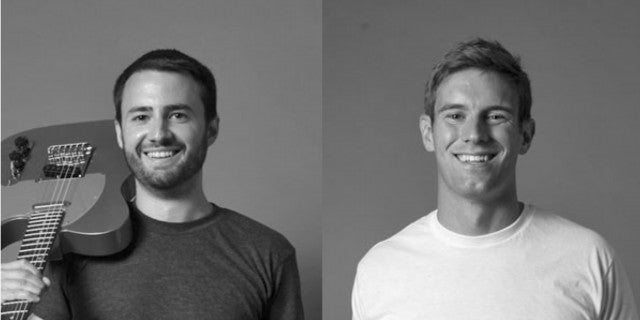 The two high-tailed it to Texas, where they formed Moniker Guitars in 2011, after doing extensive research. "It took about a year to get everything up and running," Berry says. 'We had to create a process that would allow us to make each individual guitar custom, do multiple guitars simultaneously, and stay within a certain turnaround time.'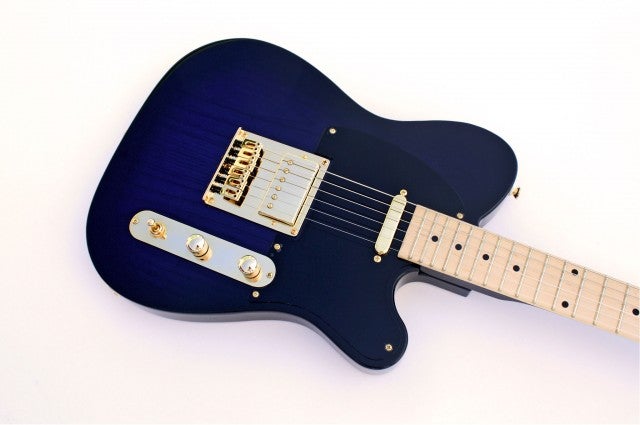 That process lead to some interesting collaborators. "Our paint company makes paint for Ferraris and Lamborghinis," Tully says. "They took us under their wings because they were excited about what we were doing." As a result, Moniker uses water-based paint because it's "environmentally friendly, it dries fast, and it allows us to mix our own colors." An ultraviolet clear coat is added to the top. "You hit it with a light, and it's fully cured," Berry says.
A vinyl plotter is a "big part " of their graphics process. Hooked up to Adobe illustrator, it cuts out stencils to create custom graphics.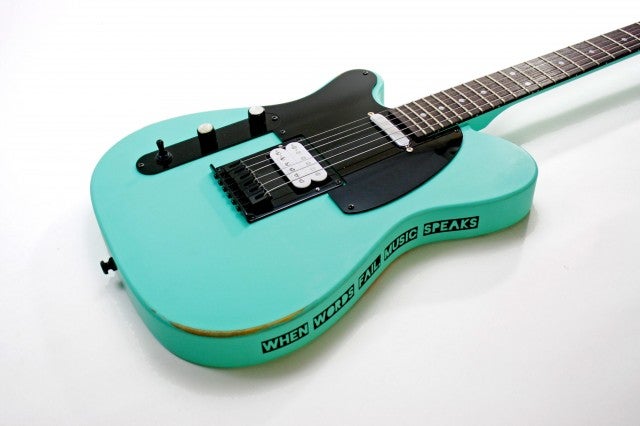 Paint is just one of the fifteen options available when ordering a Moniker guitar. Rosewood or maple fretboard? Solid body or semi-hollow? And how do you like your F-holes? On moniker.com, you can pick out exactly what you want with a click of the mouse. "We took a lot of inspiration from what Nike ID was doing with their custom shoes," Berry says. "We were really hell-bent on developing a website that was easy to use. The mantra was "if our mothers can't use it, then we've done something wrong."
The specs aren't unlimited, however. "We put a lot of thought about curating the process for people so that if they don't know the difference between alder and mahogany, that's ok. We've kind of made a choice and hopefully they like the choices we made", Tully says. "We wanted the casual guitar lover to also feel at home on our site, not just the person who spends all this time obsessing about this stuff."
Moniker's T-style guitar is called the Dixie. Unlike a standard Tele, the scale length is 24.75"—the same as a Les Paul. Likewise, the Dixie uses a 3-way Gibson-style toggle. The headstock, though, was inspired by the "snakehead" design on the original 1949 Telecaster prototype. Berry says, "We wanted to make it familiar, but different." But if you don't dig it, another headstock is just a click away.
The Dixie's base price is $949. It includes a hardshell case which is also customizable. Turnaround time is four weeks.
I got to spend a week with one of Moniker's latest—a dual humbucker model with a chambered body. The fit and finish were perfect. Solid craftsmanship. Strung with a set of 9s, it was easy to play.  Great guitar. I hated to part with it.
Tully sums up Moniker's philosphy  "Our goal is to make quality affordable, customizable guitars." Check them out at www.monikerguitars.com.
For a simple guitar, the Telecaster is surprisingly versatile. Rock, Ska, Punk, Jazz—you name it, a Tele can play it. But they are tailor-made for country, a fact that guitarist Jason Loughlin discovered later in life.
"I didn't have a Tele until I was 26 or 27. Someone gave me a copy of Vintage Guitar Magazine that had an article about Danny Gatton. I had never heard of him before and I started getting in to him. I had no idea what he was doing at the time."
It's hard to believe that Loughlin was once clueless on Gatton, especially if you've seen his Truefire.com courses on country and rockabilly guitar. He dissects the styles without excess chatter and gets right to the point.
That's just the way he thinks.
Loughlin studied theory and composition at Montclair State University, then made his living as a classical trumpet player in New York City, composing for chamber groups and orchestras. Guitar was always on the side, but once he decided to make the switch, he began woodshedding.
"I took a good solid year of practicing ten hours a day, every single day. I kept a notebook. I was really intense about getting to the point that I could go out and just start making a living as a guitar player."
Loughlin credits Jazzman Vic Juris for putting him on this path, and Jim Campilongo, who gave him some mix CDs a decade ago that "pointed me in all the right directions."
He also picked up an inspiring insight from jazz great Joe Beck.
"Beck said, 'If you can't sing every note of the next chord you're going to play, in order; or sing the next note of your solo, then you are full of it. You're letting patterns drive your music, and you're letting habits drive your music. You're not in control.'"
Laughlin pauses. "It's a great goal to strive for."
Fortunately, Loughlin has some tips for the rest of us daunted by musical theory.  "Take a very simple lick and develop it. Say you're playing a flat third, and then a root. One of the compositional devices you can use is octave displacement. Go flat three up to the root. So now it's the same harmonic information, but presented in a different way."
"You also have something called 'retrograde'. Take a lick, and play it backwards. Another one is repetition: take any piece of the lick and repeat it."
As an example, Loughlin points to Beethoven's Fifth. "It's two notes—that's all. But there's rhythmic variation, and the same interval moves around in the key. That's a great example of how to milk something out of two notes. It's one of the greatest examples of compositional development. It does it in the most natural way, and everyone feels so attached to that piece."
"Using compositional development, my students rework licks they've known forever and turn them into something completely different. Before long, they're actually developing their own voice on the instrument. "
Jason's instruments include a Nash T-52 and Champtone Gambler. He's also got one on order with Mark Jenny.
Loughlin has one record out—Peach Crate—which critics called a "remarkable debut" and "a record that packs a wallop." He's currently readying an album with his band the String Gliders, featuring members who have played with Tom Waits, Norah Jones, and Emmylou Harris. "That's all stuff that's arranged for two telecasters, and pedal steel, all trading off parts of the head. Jimmy Bryant/Hank Garland inspired stuff."
He also has two more courses coming out on Truefire. He gigs four to five nights a week, and continues to teach. But Jason Loughlin still finds time to practice: "If you aspire to reach a level anywhere close to players like Hank Garland, Danny Gatton and Chet Atkins, you'd better pick up that guitar every day. "
For more on Jason, check out his website: www.jasonloughlin.com
His courses on Truefire: www.truefire.com/educators/jason-loughlin.html