Bob Bean is a busy man, which means he doesn't get in as much guitar time as he'd like. A few years ago, he discovered that too much work and not enough play can have disastrous consequences. "I had a really nice $3000 Taylor guitar. I had a humidity system in it, but I got so busy one winter that I forgot to refill the humidifier. When I opened it up, there were three huge cracks in it. The guitar was basically ruined."
But rather than take the guitar directly to the repairman, Bean started thinking about the root of the problem. With a masters in mechanical engineering, and a background in robotics, programing, and CAD 3D design, he's good like that. "I said, 'Man, why couldn't this thing send a message to my smart phone saying my humidifier was low, you need to refill your sponge? It's a 3 dollar thing."
He quickly built a working prototype, then realized it could do much more. After many iterations, Bean has decided to take it public with the Acoustic Stream, a "4-in-1" device available through the crowd funding site Kickstarter.com.
Here's what the Acoustic Stream can do:
It monitors your guitar's humidity. If it detects dangerous conditions, it will send notification to your iOS device.
It's a tuner. Tap three times on your guitar to turn it on, or use the Acoustic Stream app on your iPhone, iPad, etc.
Record wirelessly. The unit has a memory that holds about an hour of musical ideas. Sound is either picked up through the onboard mic, with a jack connected to your acoustic electric's preamp out, or with a cable connected to your electric guitar. To start recording, just double tap.If your iOS device is on, Acoustic Stream will stream the signal directly to it.  You can then edit the recording with Garage Band or other editing software.
Perform wirelessly. Bob calls it a "no hassle wireless connection." Turn on your Acoustic Stream, then connect your iOS device to an amp or PA system with the included cable. If you're a one-man band, you can connect a microphone and your guitar at the same time—it streams two channels of data.
The Acoustic Stream mounts inside an acoustic guitar with a clip, on a strap, or on your guitar's end pin.
The rechargeable battery is good for 8 hours of continuous streaming and recording, and up to a year for monitoring humidity.
MSRP is $200, but it is cheaper now on Kickstarter.
For more information, go here:  https://www.kickstarter.com/projects/1705772138/acoustic-stream-the-guitarists-wireless-4-in-1-com?ref=live
Bob Logan formed the band Rainbow. Perhaps you've heard of them? Probably not, unless you spent time in Florida in the early '70s. Bob's Rainbow was before Ritchie Blackmore's Rainbow. Of course, Ritchie played a Strat, but Bob's guitar of choice was a 1972 Telecaster. "I just fell in love with it," he says. "I've been playing a Tele ever since with every possible kind of pickup you could put in."
Logan built his first guitar in 1972, which was exhibited a year later at NAMM. But it took a while before he devoted all of his time to guitar. He spent 40 years in construction. Retirement got him back to his passion; Logan Custom Guitars is now in its second decade.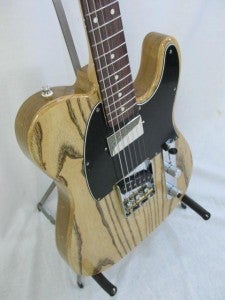 Talking to Bob means you're going to be talking about wood. He generally uses swamp ash, alder, mahogany, walnut and cherry. Tops are often made with more exotic woods like Spanish cedar, spalted maple, zebra wood, waterfall bubinga, plus flamed and quilted maple. He's even got a stash of maple that was previously sunk in Lake Superior in the 1800s.
When Washburn quit making custom guitars, Logan got the wood. His favorite, though, is no longer available.
"I was fortunate enough to acquire a couple of beams from Milwaukee where they were dismantling a church. The beams were all pine. I was able to cut 15 bodies with it. They were so light and so resonant, I was just amazed that a guitar could sound like that. I had some special pickups wound by Seymour Duncan for those bodies. Unfortunately, I don't have any more. They sold so fast."
Another reason they might have sold quickly? Price. Logan doesn't charge a lot. Most of his builds range from $700-$1200.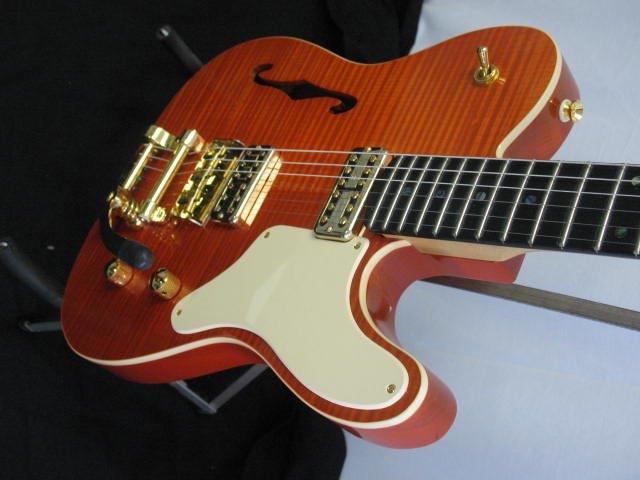 He's got deals with ten pickup manufacturers, but says he doesn't push any of them. "I just listen to the customer and find out what they want to get out of the instrument, then I'll help them decide."
Logan builds the bodies himself, but buys unfinished fretted necks. He rolls the edges, levels and polishes the frets, and puts all of the finishes on them—all nitro. Bob only uses nitro for the bodies, too: "It's very thin. It ages very nice. It looks fantastic ten years down the road. It allows the vibrations and the natural sound to penetrate the guitar. You feel the guitar resonating."
Bob is a humble guy—he listens to Christian music while he builds—but he's confident in his abilities.
"I think my guitars compare with just about anything out there. I'm not asking for a lot of money. I have a passion for building them. I have sold over 2000 guitars and I've never had a guitar returned to me, ever. I am 100% responsible for what leaves my shop. I don't have employees. I build them all by hand—no CNC machines. Everything is hand cut, hand finished. And that's just the way I do it."
For more, visit http://logancustomguitars.com
Since 1981, the go-to name for amplifying an acoustic has been Fishman. So why is it that after 33 years in business, Fishman is only now going electric? Founder Larry Fishman says there was a good reason for the delay—there were "plenty" of great electric pickups already around. But we all know that pickups aren't consistent, hand-wound or otherwise. Fishman wants to change that with their new Fluence pickup.
Standard electric guitar pickups consist of a bar magnet, with up to  7000 turns of copper wire coiled around it. In the Fluence, the copper isn't wound—it's "printed"  then stacked in 48 layers. As a result, Fishman says "every Fluence pickup sounds the same."
Fluence pickups are also multi-voice—you can wire them up with a push-pull pot or a toggle to get different sounds.
Voice 1 – Vintage Single-Coil: Vintage tone, clear and present with a sweet warmth.
Voice 2 – Hot Texas Single-Coil: Muscular, beefy, "overwound" tone
To remove noise and hum, the signal is sent through a powered preamp, but don't freak out—Fishman's rechargeable power pack fits right into the control cavity. It offers around 200 hours of play time (with a warning light when you are down to six.) Total charging time is 2 1/2 hours through a mini USB jack.  The Fluence can also be powered by a standard 9-volt battery.
Fluence will be available in single widths, as well as classic and modern humbucker configurations.
Pricing is TDB. Pickups will be available in the second quarter of '14.
Fender's answer to PRS-Style guitars with "drop dead gorgeous" tops, the Select Series, is welcoming an all-new lineup of instruments for 2013. These undeniably beautiful models join last year's seven previously released instruments. They offer stellar wood grains, extra finishing and a few features not found in standard production models, without going all the way to Custom Shop, but at near Custom Shop pricing. This year's new contenders are:
The new Fender Select Telecaster® HH is both beautiful and light, with a pair of Wide Range Special humbucking pickups, chambered alder body, gorgeous Malaysian blackwood top, comfortable back contour and Natural gloss lacquer finish. Its modern "C"-shaped birdseye maple neck has a comfortable contoured heel, satin lacquer finish and Bi-Flex™ truss rod system; the compound radius birdseye maple fingerboard has 22 medium jumbo frets and a gloss lacquer finish. MSRP $2,999.99
The new Fender Select Carved Top Telecaster SH offers a chambered alder body, carved Tasmanian blackwood top and hand-stained Black Cherry Burst finish with gloss lacquer topcoat. If offers a "C"-shaped flame maple neck with satin lacquer finish and Bi-Flex™ truss rod system, and a compound radius rosewood fingerboard with 22 medium jumbo frets. MSRP $3,499.99
The Fender Select Telecaster Thinline presents a finely crafted take on the popular semi-hollow version of our very first guitar model. It has a semi-hollow ash body with a beautiful flame maple top and hand-stained Violin Burst finish with gloss lacquer topcoat. The Fender Select Telecaster Thinline with Gold Hardware offers the same specifications with the additional touch of gold hardware. Thinline MSRP $2,999.99 and the Thinline w/Gold Hardware MSRP $3,199.99.
.
For those curious about the non-Tele guitars of the 2013 Select Series, there is a Fender Select Carved Maple Top Jazzmaster®, a Fender Select Stratocaster® HSS, and a Fender Select Active Jazz Bass® in the lineup as well.
Pricing for these new models is what you would expect for Fender's Select Series instruments — at least one arm and one leg even at street level pricing.