It's our once a year Fundraiser Giveaway and this year we're making it even bigger. For 2015, we're giving away a total of 10 new guitars to lucky winners on the TDPRI. Here's how this works: Each donation of $25 or more to TDPRI.com during our 2015 Fundraiser will provide you with one giveaway entry (example: $25 donation receives 1-entry, a $75 donation receives 3-entries and so on). It's as simply as that.
Three of the Giveaway guitars will be awarded in EARLY BIRD drawings staged weekly for the first 3 weeks. Week number one will see a Fender Baja Classic Player Telecaster go to someone that enters during the first week. The 2nd and 3rd weeks respectively will see two Squier Classic vibes handed out – one per week – in a drawing of just those that enter THAT WEEK.
So, get in there and participate. Check out the Fundraiser Giveaway page for more info about EACH of the guitars that will be awarded this year and for complete contest rules.
ABC World News Tonight's "Made in America" series has made a visit to Fender's Corona, California manufacturing site to chronicle Fender Musical Instrument's USA roots. The piece includes some of Fenders best known players AND the folks that build all those great guitars. Rich Macdonald, Fender's Executive Vice President welcomes the news show's host, David Muir to the Corona, California Welcome Center and teaches him at least one chord to play on a Strat.
Of course, Fender makes guitars in Mexico, Japan, China, India, Indonesia, South Korea and other countries, too. But that part wasn't mentioned in the news piece.
Check out the video below to see the whole segment. Fender has a new CEO (again, 3rd one in a year), new marketing staff headquartered in Burbank, California, and a new emphasis on the almighty BRAND. So, this national news puff piece couldn't come at a better time.
From time to time TDPRI Members will submit a review on their favorite Telecaster. Normally, those end up in our Review section. But… not always. We've ask Norwegian TDPer, Sindre Bremnes to let us publish his loving review of his Fender Classic Player Baja Telecaster as our first "Guest Review." Sindre has submitted a pretty complete review of his guitar and one that really shares his admiration for the instrument.
Do you have a favorite piece of gear that you want to review and see it published on TDPRI? Is so, just email webmaster@tdpri.com and let us know what you have in mind. We'd love to hear all about it.
Fender Classic Player Baja Telecaster
Two-tone sunburst, serial number MX 14473727
Tested through Roland JC-120, Laney LC-30II and Mesa/Boogie Subway Blues
Appearance
Three-piece ash body. Not the prettiest wood, quite uneven growth patterns. Joints more visible on the front than the back. Finish is glossy, but looks and feels good. No dipped-in-plastic feel or look. The appearance would have benefited from more black in the two-tone sunburst, and the transition between colours is somewhat uneven in places.
Neck is very well made from quality maple, with a high amount of radial ray flecks. Subtle V-shape, neither chunky nor slim. Finish is again glossy, which might not appeal to everyone. Shredders and people with sweaty hands might want to dull it down.
Metal parts looks decent, but the bridge plate is crude and has tool marks. Probably intentional, to mimic 50s style bridges. Tone and volume knobs are not in vintage style, and the difference in appearance between the S1 equipped volume knob and the plain tone knob might trouble purists.
The plastic pickguard looks cheap and significantly lowers the visual appeal of the guitar, in my opinion. It is also warped at the edges where the screws have been overtightened, and has a whitish spot at the lower edge. It generates static electricity, and attracts dust. It is sad that Fender chose to skimp on this part. Will be replaced.
Weight is 3.7 kilos (8.2 pounds). The variance is weight on these guitars seems to be big, lumber consistency might not be a priority for Fender on this series.
Playability
Very nice neck. The V shape is very good for players who like to keep the thumb on the bass side of the neck instead of wrapped around it. The frets none-vintagey fat, but nicely polished and even, without sharp edges. The guitar feels very responsive and resonant, and may be well suited to fingerpicking and subtler styles.
Decent setup out of the box. Strings a bit low, but neck has optimal amount of relief (in my opinion). Intonation a bit off on B and E strings, easily fixed. Neck pickup might be a bit high.
Sound
The unamplified sound is great. No odd resonances, very crisp, direct and clear sound. It is easy to hear it is a Telecaster before plugging in.
Amplified it guitar sounds fantastic. Incredible sustain, well-defined attack. A distinct, lovely bloom to the tone, typical of a high-end bolt-on. The overall tone is very full, rich and smooth, I would characterise it as elegant and refined. This guitar sounds good on everything, its voice speaks clearly even through a noisy and boxy-sounding Mesa/Boogie Subway Blues.
The bridge pickup is quite a bit fuller and somewhat bassier than the average vintage unit. A smooth roundness to the tone, no icepicks here. But the midrange is well behaved, and amplifier tweaking brings out the twang. With the tone reduced, an excellent throaty sound is achieved, very nice with overdrive.
The neck pickup is treblier than expected from a Telecaster. With tone on full, we're almost in Stratocaster territory, but the fuller bass and quicker response makes it clear that this is Leo's firstborn. Rolled down a little, and with a slight volume reduction, the neck pickup comes close to a vintage Telecaster neck pickup. Further tone reduction, around halfway, gives a very good traditional jazz tone, in combination with mid boost on the amp.
The neck and bridge in parallel position is less sparkly and mid-scooped than usual, this might not be the ultimate guitar for chicken-pickers or treble junkies. But it is very good for ambient music, and will work well with modulation effects.
Neck and bridge in series is much louder than the other settings. Very clear and fulltoned and not at all muddy. Excellent for string harmonics, and a welcome extra boost that makes this instrument more modern and versatile than a vintage Telecaster. It could be argued that it lacks a distinct character and tonal focus, but with a little or a lot of overdrive/distortion, it is a very useful sound for blues and many kinds of rock. You won't suddenly have a PAF humbucker on your hands, but a nice approximation. With tone rolled almost all the way down and decent amounts of overdrive, something resembling Clapton's woman tone is to be had.
Neck and bridge in series out of phase may be the least useful pickup selection. Very bass light and extremely nasal, though loud and penetrating. Not enough sparkle for funky rhythm. But in a high gain context it has its uses, a dirty, grungy solo tone is achieved through the overdrive channel of the Laney LC30. With less distortion, but more mids dialled in on the amp, it makes a loose Peter Green approximation. The tonal balance is uneven in this setting, the low strings are extremely hollow and devoid of bass, but the higher strings retain more of their tone.
The last setting is neck and bridge in parallel out-of phase. A capacitor is used to filter out the bass frequencies of the neck-pickup, leading to much less cancellation of bass frequencies. This gives a sound reminiscent of position two or four on a Stratocaster (or a duck with a cold). But the firmness of the bass (it is bassier than the series out-of-phase setting) and distinct attack does not sound Stratish. This position has the opposite problem of the series out-of-phase, the bass strings sound less hollowed out than the top strings. And there might be too much lower mid to the tone to be really effective for the stuff people use the inbetween-positions on a Strat for.
It seems odd that the pickups do not have reverse polarity, which would make the two-pickup settings hum-cancelling. But hum is not at all problematic, at least not for living-room playing. There is some static noise. A better pickguard and some shielding will fix that.
The volume control has the usual uneven taper, treble loss at low volumes is typical. Tone control works well all the way down.
The S1 switch seems well made, but a loud pop is sometimes generated when pressed. A potential problem in loud live situations.
Conclusion
Fantastic value for money. A few minor gripes, mainly on cosmetics, does not change the fact that this is one of the best Telecasters Fender makes. For the price, it is simply unbeatable.
Here's Fender's Allen Abbassi demoing the Fender Classic Player Baja Telecaster:
Seems kind of obvious, Fender making stompboxes. Doesn't it? Yet, where have they been? Off and on over the past 40 years Fender has sold effects pedals. But it's been quite a while now since the last one was available (remember the Starcaster Distortion?). Well, all that is about to change. Now, just in time for Winter NAMM, Fender is announcing Competition series pedals, a new line of effects pedals designed and built — as the PR dept states — "to provide inspirational tones in a reliable package at an astounding value."
The Fender Distortion pedal drives tube or solid-state amps into thick distortion and singing sustain, evoking the edgy hard-rock tones of the '70s and '80s. Great with many different amplifiers, it's responsive enough that a guitar's volume control can be adjusted to the exact amount of distortion desired, from aggressive crunch to full-on saturation. It can be used to create a distorted tone or as a boost for higher-gain rhythm and solo tones. MSRP $89.99
The Fender Drive pedal creates a warm overdrive reminiscent of classic '60s and '70s rock and blues tones. It can be used to push tube or solid-state amps, creating harmonically rich crunch and sustain. With an old-school design that matches its vintage warmth, it makes an ideal choice for the musician looking for rich, harmonic overdriven tone. MSRP $89.99
The Fender Chorus pedal will remind guitarists just how cool and indispensable the lushly spatial effect can be. Add sparkle to clean open chords, to animate strummed passages and to thicken distorted power chords. Get just the right amount of chorus desired, cleanly and quietly. Operates in mono or with stereo outputs for vibrantly huge sound while creating wide, sweeping modulation effects or shimmering 12-string sounds. MSRP $99.99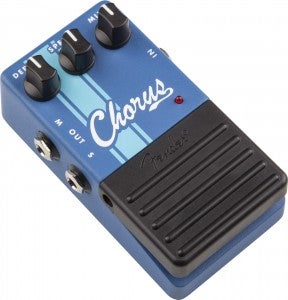 The Fender Delay pedal creates richly resonating echo effects from short slap-back rockabilly sounds to longer repeating echo perfect for huge, soaring guitar solos (it's great for other electronic instruments too, such as keyboards). Dedicated delay time, feedback and level controls give you complete command of your sound's spatial characteristics. Operates in mono or with stereo outputs for two-amplifier setups. MSRP $99.99.