Seems kind of obvious, Fender making stompboxes. Doesn't it? Yet, where have they been? Off and on over the past 40 years Fender has sold effects pedals. But it's been quite a while now since the last one was available (remember the Starcaster Distortion?). Well, all that is about to change. Now, just in time for Winter NAMM, Fender is announcing Competition series pedals, a new line of effects pedals designed and built — as the PR dept states — "to provide inspirational tones in a reliable package at an astounding value."
The Fender Distortion pedal drives tube or solid-state amps into thick distortion and singing sustain, evoking the edgy hard-rock tones of the '70s and '80s. Great with many different amplifiers, it's responsive enough that a guitar's volume control can be adjusted to the exact amount of distortion desired, from aggressive crunch to full-on saturation. It can be used to create a distorted tone or as a boost for higher-gain rhythm and solo tones. MSRP $89.99
The Fender Drive pedal creates a warm overdrive reminiscent of classic '60s and '70s rock and blues tones. It can be used to push tube or solid-state amps, creating harmonically rich crunch and sustain. With an old-school design that matches its vintage warmth, it makes an ideal choice for the musician looking for rich, harmonic overdriven tone. MSRP $89.99
The Fender Chorus pedal will remind guitarists just how cool and indispensable the lushly spatial effect can be. Add sparkle to clean open chords, to animate strummed passages and to thicken distorted power chords. Get just the right amount of chorus desired, cleanly and quietly. Operates in mono or with stereo outputs for vibrantly huge sound while creating wide, sweeping modulation effects or shimmering 12-string sounds. MSRP $99.99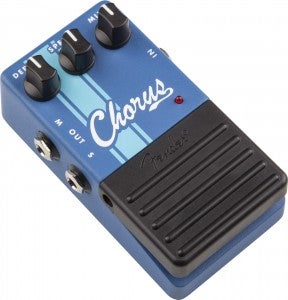 The Fender Delay pedal creates richly resonating echo effects from short slap-back rockabilly sounds to longer repeating echo perfect for huge, soaring guitar solos (it's great for other electronic instruments too, such as keyboards). Dedicated delay time, feedback and level controls give you complete command of your sound's spatial characteristics. Operates in mono or with stereo outputs for two-amplifier setups. MSRP $99.99.
Fender's answer to PRS-Style guitars with "drop dead gorgeous" tops, the Select Series, is welcoming an all-new lineup of instruments for 2013. These undeniably beautiful models join last year's seven previously released instruments. They offer stellar wood grains, extra finishing and a few features not found in standard production models, without going all the way to Custom Shop, but at near Custom Shop pricing. This year's new contenders are:
The new Fender Select Telecaster® HH is both beautiful and light, with a pair of Wide Range Special humbucking pickups, chambered alder body, gorgeous Malaysian blackwood top, comfortable back contour and Natural gloss lacquer finish. Its modern "C"-shaped birdseye maple neck has a comfortable contoured heel, satin lacquer finish and Bi-Flex™ truss rod system; the compound radius birdseye maple fingerboard has 22 medium jumbo frets and a gloss lacquer finish. MSRP $2,999.99
The new Fender Select Carved Top Telecaster SH offers a chambered alder body, carved Tasmanian blackwood top and hand-stained Black Cherry Burst finish with gloss lacquer topcoat. If offers a "C"-shaped flame maple neck with satin lacquer finish and Bi-Flex™ truss rod system, and a compound radius rosewood fingerboard with 22 medium jumbo frets. MSRP $3,499.99
The Fender Select Telecaster Thinline presents a finely crafted take on the popular semi-hollow version of our very first guitar model. It has a semi-hollow ash body with a beautiful flame maple top and hand-stained Violin Burst finish with gloss lacquer topcoat. The Fender Select Telecaster Thinline with Gold Hardware offers the same specifications with the additional touch of gold hardware. Thinline MSRP $2,999.99 and the Thinline w/Gold Hardware MSRP $3,199.99.
.
For those curious about the non-Tele guitars of the 2013 Select Series, there is a Fender Select Carved Maple Top Jazzmaster®, a Fender Select Stratocaster® HSS, and a Fender Select Active Jazz Bass® in the lineup as well.
Pricing for these new models is what you would expect for Fender's Select Series instruments — at least one arm and one leg even at street level pricing.
It won't be long now, until all the various companies start releasing their new models for the 2013 Winter NAMM Show. This years gigantic gear galaxy will begin Thursday, January 24th through Sunday, January 27th. We'll be there again this year from the opening cocktail receptions until the "too tired to see any more" last day. So, watch this space and our Facebook/Twitter pages for more goodies from the 2013 Winter NAMM Show. And, as always we'll try to get press releases detailed here as soon as possible when they arrive.