TDPRI Gives Away 7 Guitars!
The 10th Annual TDPRI Fundraiser / Giveaway is going on now through November 17th. And, this year's Giveaway has the biggest and best prize list of any of the previous events. We're giving away 7 complete guitars, and an assortment of other prizes all valued at nearly $20,000. On November 18th, we'll hold a live drawing online and some lucky TDPers will take home some VERY big prizes.
Here's the list of prizes and demoes of the guitars being offered in the Fundraiser. Each demo is performed by Tele Master Redd Volkaert. Be sure to check each of them out!
Grand Prize – Guitar
Fender Custom Shop
Limited Edition Relic 50's Esquire -2 Pickup – Black
Fender's Custom Shop has created a very limited masterpiece for this year's Giveaway. This reliced 50's LTD Edition 2-pickup Esquire in Black is the perfect guitar to celebrate the 60th Anniversary of the Telecaster (and Esquire, too). This one was made special for display in the Custom Shop Booth at last year's Winter NAMM Show.
Premium Ash body
7.25 radius maple neck with vintage frets
6 lb 14 oz
Nitro finished Relic body
Vintage hardware
CS Nocaster Bridge / CS 50's Neck Pickups
Tweed Deluxe LTD case
Certificate of Authenticity (signed by Mike Eldred)
Fender's Custom Shop Custom Care®
MSRP Value of $6,000 — free to the winner of this Grand Prize
First Prize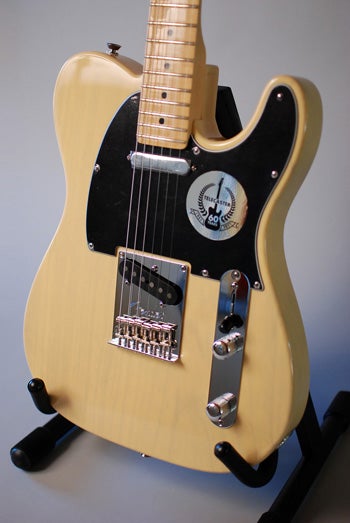 Fender Musical Instrument Corp.
60th Anniversary Telecaster
Fender celebrates the 60th Anniversary of the Telecaster with this special "Tele-Bration" limited Anniversary edition Tele. A mixture of vintage looks and modern features make this a special guitar to own no matter how you look at it.
Ash Body Blonde / Nitrocellulose Lacquer
"C" shapped Maple Lacquer finished Neck 9.5" Radius
American Standard Tele Pickups
Bakelite Pickguard
New Amercian Style Bridge
Molded Rectangular Fender/SKB® Case
Second Prize
K-Line Guitars
Truxton Vintage Guitar
A fantastic guitar from K-Line Guitars. Wait 'til you see this one. Top notch components mated to the proper tonewoods with the best electronics. Great aged and reliced Oly White with a mint 'guard.
Alder body
Rosewood FB/Maple neck .880″ C shape,
6105 frets
Aged and Reliced Olympic White Finish
Loller Vintage Pickups
K-Line Aged Vintage 3-saddle bridge
Mint Pickguard, 3 way switch, K-Line Aged Controls
Polyfoam/Fabric Rectangular Kaces case
Third Prize
www.GuitarMill.com
Guitar Mill
Mario Guitars T-Style
2-color Sunburst
Guitar Mill is known for making great guitar bodies and necks with the option to have them custom finished before shipping. But it's their custom line of specially crafted "Mario Guitars" that are the hallmark of their entire operation. This year's Custom Shop T-Style from Mario's workbench is truly a special guitar and one that its winner will truly treasure for decades to come.
Premium Grade Aged- Pine Body
1 Pc. Quarter Sawn Maple Neck ( w/ Light Flame)
Soft Chunky 'V' Shape, 6105 frets, 9.5″ Radius
Ultra-Thin Nitrocellulose Lacquer Finish (Two Tone Sunburst
Custom Wound – Lindy Fralin PU's with 4 Way Switching
Heavy Knurled Nickel Knobs, Hand Engraved Custom Neck Plate
Compensated Brass Saddle Bridge
5 lb 9 oz
Deluxe TKL Hardshell Case
Fourth Prize
Rutters Guitars
50's T-Style Butterscotch
Marc Rutters is known for his attention to detail for vintage parts, bodies and fantastic guitars. And, this guitar is no exception to that heritage.< br/>
NEW! Video of this guitar.
1 piece Swamp Ash
Neck 1 piece Maple lazy V to C profile .89 1st fret .98 12th fret
Bone nut 1.650" wide, 6105 frets, 9.5″ Radius
NOS Butterscotch nitrocellulose lacquer finish
Peter Florance Broadcaster bridge and TE Sweet neck Pickups
Bridge "Rutters" CRS, control plate, Broadcaster knobs, neck plate, jack cup and switch tip all Rutters handmade hardware
Fifth Prize
www.RhomcoGuitars.com
Rhomco Guitars
TDPRI Partscaster 12-String T-Style
From building new guitars, to transforming a 6-string into a 12-string, to turning your Tele into a VariAxe to making short-scale Tele basses, Robert Oliveira does it all. His specialty is affordable custom guitar work. He can use your components or provide a complete guitar built to order. This TDPRI Partscaster 12-String is a perfect example of the unique set of skills Rob brings to the table.
Two piece Pine Body with Double White Aged Binding
Maple/Rosewood Custom 12 String Neck
Bone nut 1.650" wide, 6105 frets, 9.5″ Radius
Surf Green Pearl, Silver Flake Nitrocellulose finish
Fender 69 Tele Re-Issue Pickups
Custom Bridge plate, Gotoh 12 String Saddles, Tinted Nitrocellulose finish, Gotoh Kluson Style Tuners
Custom Decal by Jonathan Bennett
Sixth Prize
Squier
Classic Vibe 50's Tele Butterscotch

In the early years of Fender, the Telecaster quickly became an everyman's guitar because of its versatile sound, ease of playing and reasonable cost. The new Classic Vibe Telecaster '50s in Butterscotch Blonde delivers on that original promise.
Pine Body
Tinted Maple Neck modern 9.5" fretboard radius
Butterscotch Blonde Finish
Alnico 5 single-coil pickups
Vintage Style 3-saddle bridge
Other Cool Prizes!
This year we have other cool prizes from USA Custom, D. Allen Pickups and others. So, if you don't win a guitar maybe you'll win a great effects pedal from Wampler or some hand wound pickups from FretTech. Here's the details on these other prizes:
Total "Old School" T-Style body
1-piece Swamp Ash made "totally old school" with all standard T-Style routes.
1-Piece Maple Neck
1.650" nut width, '54 contour, 9.5" compound radius, 6105 frets, Kluson tuner holes, std black dots, rolled edges
Figured Maple cap over Honduras Mahogany body
Std T-Style bridge route / Humbucker Neck route, 7/8" side jack,
1-Piece "Cooked" Quarter Sawn Maple Neck
1.650" nut width, '63 "C" contour, 9.5" compound radius, 6105 frets, Kluson tuner holes, std black dots, rolled edges
Wild Cat Hot Vintage Bridge and Neck Set
The Wild Cat Hot Vintage Bridge is made with alnico II's for a warm rounded tone that will still have snap and spank. It is wound with 42GA poly to 7.38. The Wild Cat Hot Vintage neck is made with alnico III magnets and wound to 6.88 with 43 GA PE wire for a crisp clean hot tone that will still play dirty well and a very thin polished Nickle Silver cover. The set is reverse wound,
Fat Cat Bridge and Neck Pickup Set
These Fat Cat Tele Pickups give you big, fat, warm single-coil Telecaster sounds. They are clear and still cut, but have a slightly rounder and darker tone. Punchy, thick sounds, but with clarity and chime. A very versatile set, but also very well suited for those with jazz, pop, or rhythm and blues tendencies.
Wild Cat Cheetah Pickup Set
Cheetah's provide true Tele brightness, but also a certain sweetness and provide a very even range and response from top to bottom. The neck pickup has a clarity and punch that typical Tele neck pups lack. Cheetah's will do country music and rock-n-roll all day long. Overall, this is a fantastic set for the Tele enthusiast looking for a more transparent and useful neck pickup, with a bridge pickup that gives you that cut and bite you want out of your Telecaster.
Cavalier Lion + Cavalier Tiger (strat) Pickup Set
FretTech's Cavalier Lion Tele Bridge Pickup paired with an uncovered but potted Tiger (strat) pickup for the neck. The Tiger will fit the standard Tele neck position and Tele pickguard no problem. The Cavalier Lion/Tiger matched set for a Tele®. The very best of all worlds – that classic twangy Tele® bridge tone found on countless recordings by mega artists spanning countless music genres, coupled with that classic bluesy Strat® neck pickup. A match made in single coil tone heaven that turns any Tele® into a very versatile guitar for stage or studio.
Ego Compressor
The Ego Compressor gives you a clear articulate sound thanks to the "clean blend" knob which blends in your original clean signal yet still thickens your tone up better than anything else available in pedal form. It also will add a ton of sustain to your notes – all without excess noise. The "tone" control adds in clarity and punchiness – while cutting through the mix!
The Paisley Drive
Brad Paisley's requirements were quite "simple"… it needs to be clean but get crunchy with some "beef" to it. It needs to have a fluid tone when soloing. It needs to add a little hair to the tone but then but then has to be able to give flat out ball busting gain, oh… but please do not wreck the tonality. Wampler nailed it in the Paisley Drive.