For pickup maker Seymour Duncan 2011 is all about his 35th year in operation. To commemorate this milestone, SD has released a limited edition 35th Anniversary T-Style guitar they're calling appropriately, Seymour Duncan 35. With a T-Style body and neck but dual coil humbuckers and a Tune-o-matic bridge it's a combination of two distinct guitar brands.
The Seymour Duncan 35–inspired by Seymour's "TeleGib" and the company's 35th Anniversary–comes with two sets of very special pickups: The recreation of the original "TeleGib" pickups, known as the Custom Shop JB/Jazz Concept Set, and a modern exotic set of Seymour Duncan Zephyr™ Silver premium pickups.
Seymour Duncan's new Custom Shop JB & Jazz "Concept" Humbuckers are installed in the guitar. The "Concept" pickups are reproductions of the prototype pickups Seymour wound for Jeff Beck's guitar, well before there was a Seymour Duncan Company. These pickups later became the basis for further development of the Seymour Duncan JB & Jazz production models, after the formation of the company.
No word on how many guitars they plan to build or what the pricing will ultimately be for these guitars. But they are giving one of them away to folks that complete a short pickup survey. To enter Click Here.
Available for ordering from Music Zoo for $6,250
Folks are really taken by the Custom Shop's La Cabronita Telecaster. But for many, the $5000 price tag is just TOO TOO much. For two years people have been calling for a standard Cabronita model — your calls have been heard. At least for 1000 lucky people that jump on this bandwagon quickly.
There will be sunburst and black colors (500 of each) and these are sure to go very fast indeed. So, get yours ASAP.
Fender says; "The popular Custom Shop guitar now offered at a lower price point! Two TV Jones Filtertron pickups on a slab body, 2 Tone Sunburst or Black."
Here's a Tele that is sure to impress you and your friends. A limited run (1000 pieces-500 in Honeyburst and 500 in White) Telecaster with a body made of Empress wood. This yields a guitar so light you'll hit your chin with the headstock when you lift it off of your guitar stand.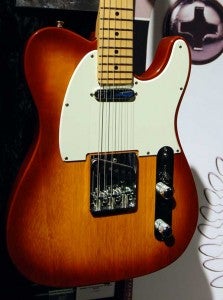 Fender says: "Empress body, super light weight, American Standard neck, Highway One bridge, Highway One pickups, Grease Bucket tone system. Honeyburst or Vintage White."
No one would state a weight for this Tele, but if I had to guess I'd say under 6lbs for sure. Under 5lbs??? Maybe.
Here's a different angle — a Mahogany Telecaster with a natural oil rubbed finish and rounded Strat-Body contours. Throw in some humbuckers and a "Lamboo" fretboard and you've got a one-of-a-kind Telecaster that actually came out of the Fender factory.
Fender says; "A contoured, natural oiled, humbucking, mahogany-bodied Tele. Mahogany neck, Lamboo fretboard, hand-oiled finish, split coil neck pickup and Enforcer Humbucker in the bridge."
Like the other Telecasters in this series… these are limited to 500 examples.