TDPRI $210 Tele Build Challenge Finale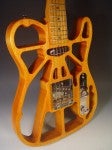 The "2010 $210 Tele Build Challenge" came to a close on May 7th with the completion of voting for the Overall Winner, Best Looking and Most Innovative" guitars built during the 2-month long challenge.
The Overall Winner honors went to TDPer JWells from Albuquerque, New Mexico. His entry titled "????caster" wowed us with not only the unique design of the body, but the super quality that went into the finishing of every part. JWells has been a TDPRI member since our earliest days and folks on the forums know him for his excellent work and the advice he provides to others everyday. His entry also finished in 2nd Place for the "Most Innovative" design as well.
"Most Innovative" design award went to TDPer "RocknDrTom" and his intricate "Telesitar" build. The name perfectly describes what Dr. Tom built; a Sita/Telecaster. Tom even posted sound samples of his guitar and it sounds just as you'd expect, especially with a little Paint It Black played on the instrument. Somebody call TDPer Reggie Young and see if he'll play some BoxTops hits on it.
"Best Looking" challenge build goes to TDPer "Guityak" for his top-bound Thinline that truly is a work of art. The sound files he posted show that his build sounds as good as it looks too.
All in all over 55 TDPers took the challenge and began the contest back in February. Over the two-month time frame a number dropped out along the way. And, in what is a Build Challenge ritual, four or five finalists were simply not able to finish their guitars before the finish bell signaled the end of the contest. But, 20 great guitars were built this year and all 20 were really seen as winners by everyone — including their builders.
The Overall Winner receives a Squier Classic Vibe 60's Custom Telecaster from our friends at FMIC. Best Looking and Most Innovative winners each receive a set of Tele Pickups from our friend Chris Klein at Klein Pickups.
Read all of the build threads, see all the other guitars, listen to the sound files and learn more by visiting the 2010 Build Challenge Sub-Forum at: http://www.tdpri.com/forum/tdpri-2010-%24210-tele-build-challenge/