August 18, 1969. Jimi Hendrix wakes up a sleepy crowd at Woodstock, playing an unforgettable rendition of the Star Spangled Banner. The phrasing was all his, but the phasing came from an Uni-Vibe vibrato/chorus pedal. Invented that same year by Japanese engineer Fumio Mieda, the...
---
After three plus years as CEO, Larry Thomas has announced his retirement from Fender effective May 31st, 2014. Interim COO Scott Gilbertson will assume the role of interim CEO while the company finds a successor. During his tenure, Thomas managed projects like the Fender Select series,...
---
Aha moments can strike anytime. Kevin Tully's moment came when a friend brought over a new bicycle. "It had crazy colors, Tully says. "It was her in bike form." The bike was made by Republic, which offers affordable bicycles that are customizable via its website....
---
For a simple guitar, the Telecaster is surprisingly versatile. Rock, Ska, Punk, Jazz—you name it, a Tele can play it. But they are tailor-made for country, a fact that guitarist Jason Loughlin discovered later in life. "I didn't have a Tele until I was 26 or...
---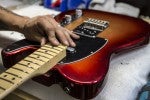 Until recently, if you wanted a Fender Telecaster made to your specs, you had a couple of options: pony up the big bucks for a Custom Shop (base price $4400); buy off the shelf and upgrade it yourself with different pickups, paint, etc.; or make your...
---
Bob Bean is a busy man, which means he doesn't get in as much guitar time as he'd like. 
A few years ago, he discovered that too much work and not enough play can have disastrous consequences. "I had a really nice $3000 Taylor...
---
Bob Logan formed the band Rainbow. Perhaps you've heard of them? Probably not, unless you spent time in Florida in the early '70s. Bob's Rainbow was before Ritchie Blackmore's Rainbow. Of course, Ritchie played a Strat, but Bob's guitar of choice was a 1972 Telecaster....
---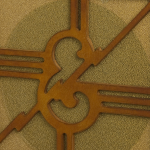 If you found yourself on a bandstand in 1939, chances are you'd be playing your jazz box through an Epiphone Electar Century Amp. There's just something about that Art Deco cabinet that says "swing, baby!" Designed by Nat Daniels (who later founded Danelectro), the Century...
---