Bob Bean is a busy man, which means he doesn't get in as much guitar time as he'd like. 
A few years ago, he discovered that too much work and not enough play can have disastrous consequences. "I had a really nice $3000 Taylor...
---
Bob Logan formed the band Rainbow. Perhaps you've heard of them? Probably not, unless you spent time in Florida in the early '70s. Bob's Rainbow was before Ritchie Blackmore's Rainbow. Of course, Ritchie played a Strat, but Bob's guitar of choice was a 1972 Telecaster....
---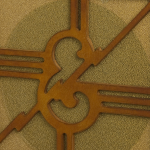 If you found yourself on a bandstand in 1939, chances are you'd be playing your jazz box through an Epiphone Electar Century Amp. There's just something about that Art Deco cabinet that says "swing, baby!" Designed by Nat Daniels (who later founded Danelectro), the Century...
---
When it comes to seriously iconic Telecasters (and Esquires), a few immediately spring to mind: George Harrison's rosewood. Roy Buchanan's Nancy. Keith Richard's Micawber. Jeff Beck's '54. Steve Cropper's '63. The list goes on an on, and it's fun debating which one is number one.  Somewhere near...
---
Much of the time, the Winter NAMM show provides pretty much what you expect-a lot of cool guitars, rockstars and wannabe rockstars and the combined din of 300 Guitar Centers on a Saturday morning. But then, sometimes you run into something that can only be...
---
Michael Kelly calls its philosophy "boutique within reach," and that's certainly the case with this new line of 1950s T-Style guitars. Designed in America and made in Korea, these T-styled axes look like a real bang for your buck. There are five models, each featuring an...
---
Avi Shabat was a successful sound engineer when he got the guitar building bug, and it was all because of one bad bass. "I bought it in Germany. It turned out to be awful and had major problems that I couldn't fix." As luck would...
---
Since 1981, the go-to name for amplifying an acoustic has been Fishman. So why is it that after 33 years in business, Fishman is only now going electric? Founder Larry Fishman says there was a good reason for the delay—there were "plenty" of great electric pickups already...
---